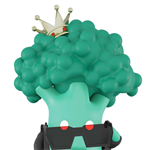 Last update: 1:05 PM, September 29, 2023
Brokoli Network Markets
Brokoli Network is falling this week.
The current price of Brokoli Network is ¥0.88 per BRKL. With a circulating supply of 53,472,622 BRKL, it means that Brokoli Network has a total market cap of ¥47,197,848.60. The amount of Brokoli Network traded has fallen by ¥677,755 in the last 24 hours, which is a 22.05% decrease. Additionally, in the last day, ¥3,073,214 worth of BRKL has been traded.
FAQ
How much is 1 Brokoli Network in JPY?
Right now, 1 Brokoli Network is worth about ¥0.88.
How much BRKL could I buy for 1 JPY?
Based on the current rate, you could get 1.13 BRKL for 1 JPY.
How much has the price of Brokoli Network changed?
Brokoli Network price has been declining. Since yesterday, the exchange rate of Brokoli Network has decreased. Since last month, the exchange rate of Brokoli Network has decreased. Since this time last year, the price of Brokoli Network has decreased.
How do I calculate or convert BRKL to JPY?
You can use our BRKL to JPY calculator at the top of this page to convert any amount of BRKL to JPY. We've also created a couple of quick reference tables for the most popular conversions. For example, 5 JPY is equivalent to 5.66 BRKL. Inversely, 5 BRKL will cost about 4.41 JPY.
How can I buy 1 Brokoli Network on Coinbase?
Brokoli Network can be custodied on Coinbase Wallet. Check out our guide to get more detailed instructions on how to buy Brokoli Network.
What are assets similar to Brokoli Network that I can buy?
There are a number of crypto assets that have the a similar or comparable market cap to Brokoli Network, including Dexsport, DDKoin, and Rainmaker Games. For a more robust list of assets to explore, jump to the asset page dedicated to Brokoli Network.
Conversion tables
The exchange rate of Brokoli Network is increasing.
The current value of 1 BRKL is ¥1 JPY. In other words, to buy 5 Brokoli Network, it would cost you ¥4 JPY. Inversely, ¥1 JPY would allow you to trade for 1.13 BRKL while ¥50 JPY would convert to 56.65 BRKL, not including platform or gas fees.
In the last 7 days, the exchange rate has increased by 8.25%. Meanwhile, in the last 24 hours, the rate has changed by 0.79%, which means that the the highest exchange rate of 1 BRKL to Japanese Yen was 0.0060558941961735705 JPY and the lowest 24 hour value was 1 BRKL for 0.005914640357212912 JPY. This time last month, the value of 1 BRKL was ¥1 JPY, which is a 23.3% increase from where it is now. Looking back a year, Brokoli Network has changed by ¥1 JPY. That means that in a single year, the value of Brokoli Network has shrank by 51.58%.
Explore More
Popular Brokoli Network conversions
A selection of other popular currency conversions of Brokoli Network to various fiat currencies.
Discover more cryptocurrencies
Here is a selection of cryptocurrencies in the top 50 by market cap.
This content is being provided to you for informational purposes only, does not constitute an offer, or solicitation of an offer nor a recommendation by Coinbase to buy, sell, or hold any security, financial product, or instrument referenced in the content, and does not constitute investment advice, financial advice, trading advice, or any other sort of advice. Data presented may reflect asset prices traded on the Coinbase exchange as well as other cryptocurrency exchanges and market data platform. Coinbase may charge fees for the processing of cryptocurrency transactions which may not be reflected in the conversion prices displayed. Coinbase is not liable for any errors or delays in content, or for any actions taken in reliance on any content.