Multisig Vault
The easiest and most secure multisig vault ever. Take complete control of your bitcoin in minutes.
Learn More
Store your own private keys.
You can create a multisig vault in minutes, just like you would a regular vault or wallet. The difference is that you're in total control of your private keys.
Main features
You control the majority of the keys
Keys are created and encrypted in the browser
Send bitcoin with ease using only your password
Buy bitcoin directly into the vault
Invite up to 5 co-signers to a group vault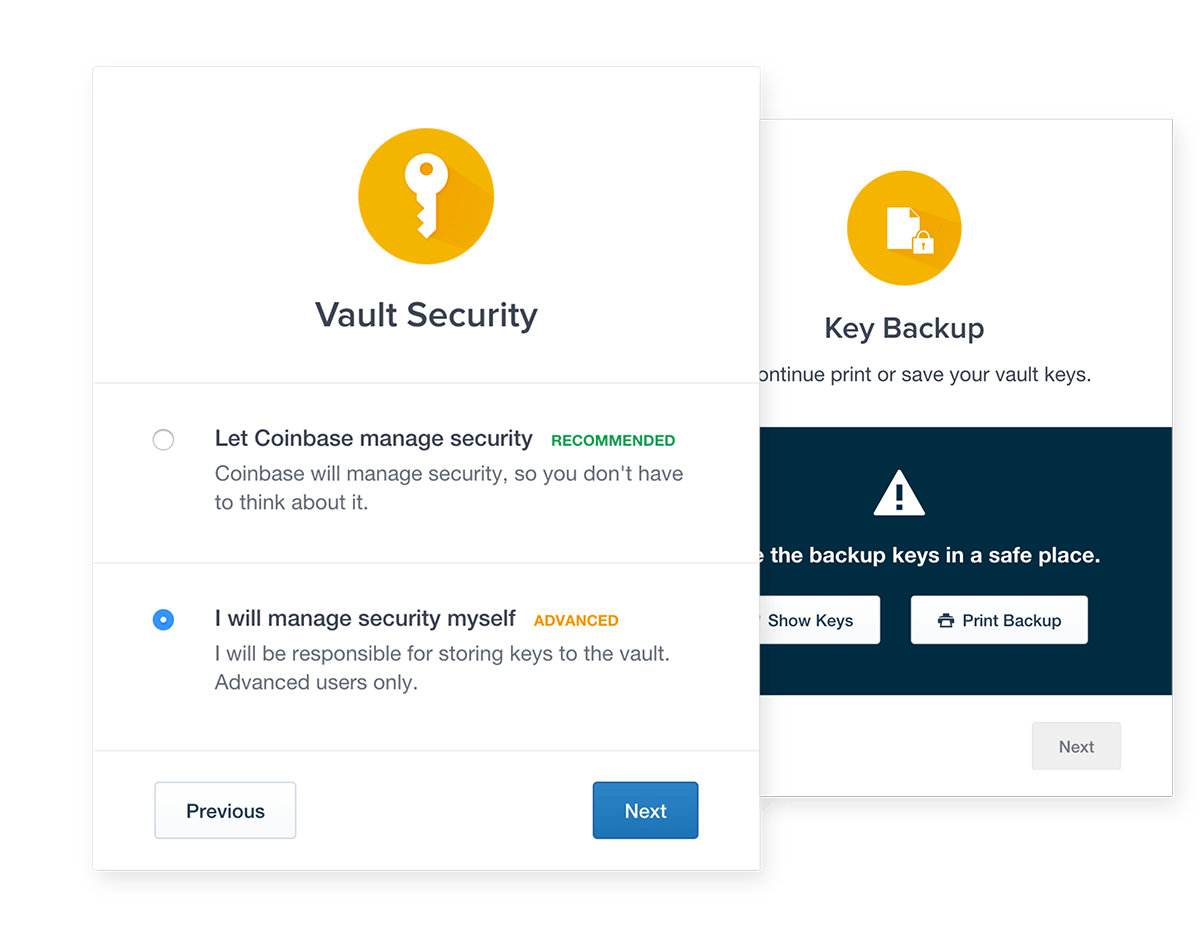 ---
How does it work?
We built the most secure and resilient solution possible. The 3-key architecture allows ease of use, easy backups, full security and complete control.
Use to recover if your password is lost.
Coinbase Key
The only key that Coinbase stores. Enables you to sign transactions from your Coinbase account.
Sign transactions on Coinbase or if the User Key is lost
Shared Key
Encrypted with your password and stored both by you and Coinbase.
Sign transactions without Coinbase
User Key
Stored by you and can be used to sign transactions without Coinbase.
---
We designed the multisig vault to be private, secure, and resilient.
You're in control
You can backup your User and Shared keys on paper or on your computer. The Shared key is encrypted in your browser with your password. Coinbase never has access to your password or User key.
Trustless solution
Coinbase does not have access to any bitcoin stored in the multisig vault. You can send your bitcoin without using Coinbase through our open-source recovery tool.
Feature full
Buy bitcoin directly into the multisig vault and secure it with multiple signers. Once the purchase is complete you're instantly in complete control of the bitcoin.
Free to use
The Multisig Vault is free to use and always will be. We believe you should always have the option to control your bitcoin.
Private and secure
We generate a new multisig address for every transaction. You should never have to sacrifice privacy for security.
Easy to use
Cryptography is hard. Take advantage of the Bitcoin protocol without having to be a security expert.
---